The innovative developments in the country's economy have gained traction with the coming of "Digital India" in 2015. Today, people talk about bitcoin, cryptocurrency, and blockchain-like every other emerging trend. Entrepreneur's journey took an upward steep with the coming of digital banks, digital wallets, and everything transforming digitally. Decimal Technology is another successful example of digital acquisition and with the launch of Saarathi, they are aiming to bridge the credit gap in India by driving efficiency, productivity and build a superior customer experience using  AI-enabled no code Platform.
Decimal Technologies is a leading Tech-Fin organization – offering technology solutions that enable financial institutions to rapidly expand their business.
 ELE Times's Correspondent Sheeba Chauhan had an exclusive interview with Lalit Mehta, Co-Founder & CEO, Decimal Technology. This interaction covers majorly about the growth of decimal technology as India's #1 digital acquisition platform and growing digital technologies ahead.
 Excerpt:
ELE Times: What would you like to say about the growth witnessed by Decimal Technologies so far on the back of Saarathi?
Lalit Mehta: With the launch of Saarathi, we aim to bridge the credit gap in India by making the offline channel efficient and transparent. Saarathi is a cost-effective platform and its USP is that it makes approvals 5X faster than the current industry time. Built using AI and ML, it helps with seamless customer and lender matching without any manual intervention, enabling flexibility and scalability.
We digitize the entire loan journey from beginning to end. Risk assessment is a common problem for many financial institutions and, since Saarathi is an AI-based product, it addresses this issue. A fully online and transparent process puts data directly to the lender system to reduce any potential fraud.
ELE Times: How Decimal Technologies is empowering the last mile channel with new-age technologies and access to formal lending?
Lalit Mehta: Customer centricity is key to all our innovations and solutions. Our aim is to empower the new generation mobile workforce and reduce customer acquisition costs by moving the digital touchpoint closer to the customer and making the entire onboarding process paperless and convenient. We were the first in India to enable instant account opening in 2017 and on boarded over 25 million accounts since.  While cloud remains a key component of all our solutions, we have also actively started focusing on AI-ML solutions and recently launched Saarathi, a lending market place which connects direct sales agents and customers to lenders. This digitises the last mile in lending and makes the strength of Digital solutions and the India API stack available to everyone. So far, we've garnered over 200 thousand application users and disbursed more than USD 100Mn in loans.
There exist a lot of said and unsaid problems for both lenders and channels in the industry, which lead to credit gap. According to the World Bank, the estimated current gap for MSMEs in India is around $380 million. Through our solutions, we want to solve hindrances like high operational inefficiency, high customer acquisition costs, lack of credit knowledge and limited lender options for our channel partners. On the other hand, for lender partners, we aim at reducing their direct sales team cost, increasing their geographical reach and options & trust on direct sales agents.
So far, we have processed over 200 thousand application users and enabled disbursement of over USD 200Mn in loans. With Saarathi, we want to digitize and propel the offline lending market in India by creating a marketplace between Business Correspondents/DSAs and the lender. Along with features like digitizing the entire loan journey from start to end, we are an all AI based product, solving one of the most persistent problems of the lending industry i.e. risk assessment. It enables a completely digital and transparent process that pushes data straight to the lender system and makes loan files trustworthy and minimizes fraud potential. This is how Decimal Technologies is empowering the last mile (Channels) with technology (platform) and access to formal lending (lenders).
ELE Times: What is Decimal's take on building a strong team of professionals to gain a competitive edge over the market and keeping up with the recent industrial trends?
Lalit Mehta: We have been aggressively expanding our offerings through Saarathi and we believe that it is critical to have a strong talent pool of professionals with the right skills to ensure successful delivery and gain an edge over the market. We have been at the forefront of using the advanced technologies like AI/ML, Data Analysis, Python, Springboot and React Js skills. We keep encouraging our employees to up skill themselves on a regular basis. Our current team strength is 380 employees and we are looking to add another 100 employees in the next 6 months across four offices – Gurugram, which is our HQ, Delhi and Mumbai.
ELE Times: How the Marketplace platform is reducing hassles for the banks and the end users by integrating data into one place, would you like to talk about some recent technology used for the same?
Lalit Mehta: Saarathi helps banks in creating a cost efficient and better lender ecosystem to secure the loan files and make the approval process faster. AI-enabled services distribution platform will help lending businesses to reduce their operational costs as they can now gather and analyze the loan files just with a click on the app.
The end users get the benefit of submitting an application once and getting matched with the suitable lender digitally and quickly. This eliminates the need to go from lender to lender to submit different applications and then track their progress. Saarathi, as a marketplace, makes the process seamless and convenient for the end user.
Lending is an extremely crucial sector for India and we have witnessed traction from both small as well as large banks. We use AI and ML technologies to offer end-to-end digital processes for personal, business, home, gold, and auto loans. These technologies make large amounts of financial data into actionable insights that enhance the lending process.
ELE Times: How are banks adopting technologies such as AI and ML to streamline the data and minimize outages?
Lalit Mehta: The impact of COVID-19 showcased the need to integrate technology for financial institutions. The changing customer requirements has called for more personalised offerings that has accelerated technology enabled services. Through AI and ML, banks are able to offer smart technological solutions and reduce their operational costs by procuring and processing loan files from anywhere with just a click on the app. It also helps banks with automated portfolio management and personalized product offerings with little or no human intervention. With AI and ML, banks are able to reduce risks and fasten their decision-making processes from weeks to days.
ELE Times: How can public-private partnership help bridge the gap of credit access?
Lalit Mehta: While the government has taken several initiatives for providing credit to the MSME sector through various schemes and benefits, there are a lot of partnership opportunities in this sector. Partnering with fintech companies will help banks and other financial institutions skip the time-consuming loan application processes that increase the loan dropout rate through tailor made solutions.
AI & ML algorithms enable the loan assessment processes to be done in a short period of time by streamlining the data and extracting the necessary information to determine creditworthiness at a faster pace. This in turn helps in the decision-making process and reduces risks and increases revenue by retaining applicants. Through these partnerships, the MSME sector can grow and add to the overall economy of the country.
ELE Times: What are Decimal Technologies' future plans to flourish further and deal with the coming technological challenges?
Lalit Mehta: Our focus will be to scale up operations and add a variety of products. Through Saarathi we would like to include loans, credit cards, insurance, etc. as part of our offerings. We are also aiming at building a lead generation platform, block chain for invoice generation, third party integrations and a variety of things on our mobile app. We also plan to build a direct loan origination system with the bank that will minimize the efforts of our lenders for checking and approving loan applications. With the launch of our flagship product Saarathi, we are looking to expand our reach to any bank or financial institution. We expect to build a $100Mn+ annual revenue business in the next 5 financial years. We are also building a strong talent pool to be in line with our goals.
In the coming year, we want to launch new products for our customers along with strengthening and adding more features to Saarathi. We also want to build a SaaS-based loan system for banks to develop blockchain for invoice generation and reduce the challenges of loan approvals, and much more. The future for Decimal and Lending space is extremely exciting!
Contributing  Author: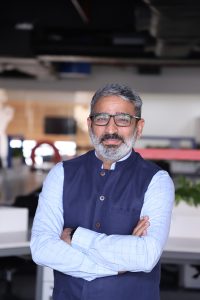 Sheeba Chauhan |Sub Editor | ELE Times