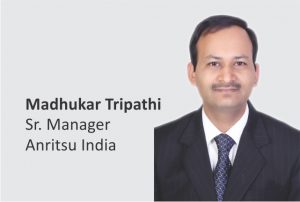 Anritsu offers RF & Microwave, Optical, Data, Advance Wireless Communication lab related solution to engineering colleges. Some of the instruments are used in Physics and nano Science lab as well. Some lab are knows as Antenna lab or research lab. Madhukar Tripathi in an interview with ELE Times discusses the product offerings for academia. Excerpts.
ELE Times: What are the latest equipments that you would recommend for an engineering colleges under more sophisticated departments like VLSI, Digital signal processing, Image processing etc?
Madhukar Tripathi: Anritsu offer R&D grade test and measurement instrument for various lab addressing to RF, Microwave, Advance Communications, Data Quality and Signal Integrity application labs. Various chips designed in VLSI Lab or other Labs need a series of test using VNA or Spectrum Analyzer or Signal generators.
ELE Times: In major research labs especially in IIT's, scholars often uses equipment for complex tasks, taking such scenario how difficult it becomes to offer high precision while maintaining cost and repairing.
Madhukar Tripathi: IIT are having good lab and new products. IIT have become a symbol of research and are carrying out many projects in collaboration with industry. There is no change in product's specs or supply and accuracy of measurement is maintained by following test procedures. Due to technology changes and back end supply of components sometime repair cost may be high. By proper use and care instruments can be used longer.
ELE Times: What are latest software you are offering to scholars for testing purpose and how its optimization time can be reduced?
Anritsu Handheld products have various SW for data processing and reporting purpose.
Madhukar Tripathi: Fiber Visualizer is new feature offering easy graphical summary and PDF reporting for OFC network; used by OTDR and this gives inside picture of Optical Fiber Network. Master Software Tool (MST) or Sky Bridge are some of SW related services under Anritsu banner.
Automation feature in Network Master MT9090A makes test procedure easy. This saves time in learning test set up and instrument.
Keeping in mind the requirement of quality engineers we need today, do you think that laboratories in Engineering Colleges and the educational sector are equipped with the latest equipment? What equipment would you want them to work on to be competent enough to be employed in the industry?
We find that basic labs are OK in engineering colleges and these labs need upgrade to advance level of instrumentation. Engineering colleges lab must have latest state-of-art product used by industry. This will bridge gap between Academia and industry.
Site Master, Spectrum Master, VNA Master , OTDR, Optical Spectrum Analyzer (OSA), Ethernet Analyzer are some of the products used by industry for various application in addition to traditional Training Kits or Osc or Power Supply etc instruments.
ELE Times: What are the advantages that your company offers to the Engineering College buying equipment for its lab?
Madhukar Tripathi: Anritsu offer is competitive price and state-of-art new products and technology for future engineering. Anritsu Shockline VNA, Anritsu 1 port USB VNA are some of economical solution for low budget labs. These instruments allow students to lean industry used T&M in college lab and increase scope in campus selection. Student with practical knowledge of T&M get preference by many companies.
Anritsu recently introduced mmwave Spectrum Analyzer which is unique cost value proposition to educational market.